Enjoy Mexican Food at the Heart of the San Antonio Riverwalk
We are The Place to satisfy your cravings for delicious Tex-Mex Cuisine. Known as the home of the Ultimate Fajita and the 60oz Margarita, we offer multi-level seating, scenic views of the river, and quaint indoor seating.
Learn More

on Cafe Ole's website in a new tab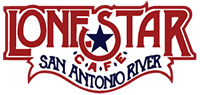 Howdy Y'all
Lone Star Cafe has proudly served tourists and locals alike since 1981. Whether you are in the mood for a tender, delicious, flame broiled steak or a juicy hamburger, Lone Star Cafe is the place to be.
Learn More

on Lone Star Cafe's website in a new tab

One of the original restaurants on the San Antonio River Walk
If you can't get to Italy for an authentic experience, you can sure come close with one of our Italian specialties. Where else can you enjoy mariachis AND delicious Italian fare?
Learn More

on Michelino's website in a new tab